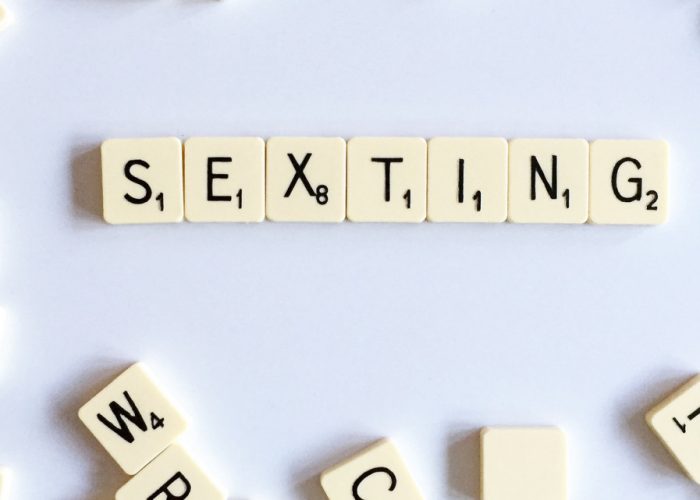 The art of sending dirty messages can be tricky, but if you do it right, you won't be stuck with the possibility of negative consequences.
1. Never take a picture and show your face. To be honest, we would recommend that you don't even send a nude selfie in the first place, but if you're brave and want to bare all, don't show a clear shot of your face. While we're at it, don't show any identifying marks like unique tattoos, piercings, or scars. You can also use an app like Snapchat or a new feature on Instagram which will let you put a time limit on the photo before it self-destructs. You should remember that by sending a photo that is intended to get them excited, you are bypassing all the fun bits of sexting and getting straight to the point.
2. Don't sext him unless you've already done the deed. We don't care how high the sexual tension may be between you and someone. It's not really good if you send a sext before you've actually had sex with them. You don't know what kind of things other people do when they are getting down so it could be awkward. Did you know that some married couples send sexts to their partners to keep their marriage fun and interesting? In short, sexting is pretty much only worthwhile for people who've already had sex and know their partner's preferences.
3. Don't give away too much in your sext. We understand that you want to tempt your man. You might want to say something like what you're planning for the next tryst. However, you don't want to tell him exactly what you're planning. Instead of being direct, let him wonder a little bit. Hint at what you've got planned. This will get his mind going and be so ready to get home to you.
4. Don't sext anything that you would never do in real life. You should always be yourself, no matter what you're doing. You don't want to send a sext about something that you wouldn't do in person or haven't tried yet. If you haven't done anything with your sext partner, you don't know their personality, you don't know what you can or cannot say. You might say something that you think is totally appropriate, but the recipient may be turned off.
5. Try some sample sexts:
• I have been fantasizing about you all day. I can't think of anything else but what I want to do after I get home.
• I've been sitting at my desk all day fantasizing about how incredibly hot it would be if we got it on right here on my desk.
• I can't stop thinking about the fun we had last night. I'm definitely looking for the second go-round.