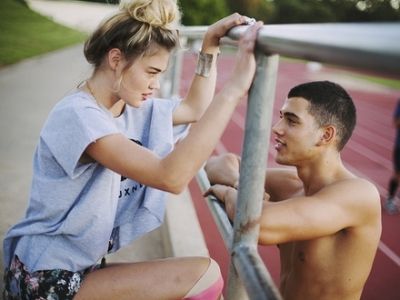 Women know how to make out with a man because it's instinctual. Sure, the first time is going to be a little awkward, but once you're deep in a lip lock session, it'll come back to you.
How to make out with someone for the first time.
There's no perfect way to make out with a man for the first time, but it would be a good idea to let the guy take the lead and initiate the kiss. You could initiate the kiss yourself, but after playing hard to get, it's probably better that you wait for him to kiss you.
Now, this doesn't mean that you should shove your tongue down his throat right away. Just a quick peck on his lips to start, and within a few moments, your instincts will kick in, and then you'll realize that you were born a great kisser!
How to make out with a man like a vixen.
Foreplay and role play are great options for when you want to get your guy's attention and get down and dirty. However, when you want to stop just before the sex and make him desire you, use these five ways to make a lasting impression that'll make him beg you for more.
1. Guys love being touched.
Indulge in some casual touching, however, keep it discreet until the first kiss. Some women take touching part too far and this can come off as being too easy to get. Always remember to play hard to get until there's a lot of intimacy in the relationship.
2. Tease him and he'll love it.
Kiss him and then quickly pull away once in a while. Grin at him mischievously and tease him. Back away when you're close kissing him and instead nibble his ear, kiss his cheek or neck instead.
3. Let your passion dominate.
Try not to get too frisky on your first date—unless you're just looking for a random fling, a rebound or even a one night stand. When you make a great guy wait for it, he'll want to be with you even more. By making him wait, he'll understand that you're worth the wait.
4. Flaunt what your momma gave you.
If you have something that you're proud of, be it your perky breasts or your smooth legs, make sure you give him the chance to see it. This will make him want to touch it. Remember, though, you don't want to show off everything—you've got to leave a little bit to his imagination!
5. Guide his hands to get him excited.
Guide his hands all over your body while you're kissing him. He'll quickly catch on and will keep doing it when you let go of his hands. Now you run your hands over his body, but barely touching his sensitive areas. When you do that a few times, don't be too surprised when you feel a bulge in his pants, which clearly shows that he is excited and wants you even more.