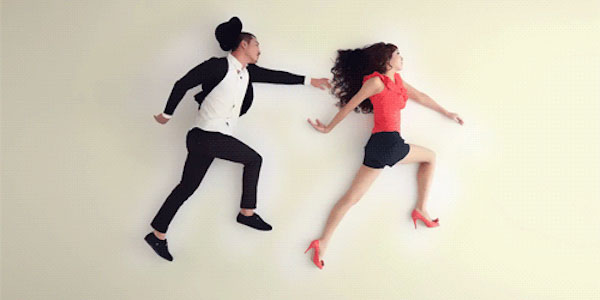 We all know that men love the thrill of the chase. For some reason, women are that much more desirable when the guy actually has to work for her affection. Learn how you can play hard to get and get the man you're crushing on to chase after you.
1. Don't chase him.
You can't expect a guy to come chasing you, if you are actively chasing him. You should be the one making him come to you! Stop texting him first, don't be the first to initiate the conversation, and definitely don't ask him out. You might want to do these things, but if he is really interested in you, he will notice that you've backed off and will start doing these things in no time.
2. Play your feelings close to your chest.
You can also make a man chase you by not letting him know how you truly feel about him. One week you can flirt with him and be really sweet, the next few days, turn a cold shoulder and treat him like everyone else. While you may think that these are mixed signals, he will actually start wondering where he stands with you and pursue you so he can find it out.
3. Let him know he isn't the only fish in the sea.
Men are driven by competition so when he sees you flirting with other people, he might get a bit jealous. When you show him that there are other men who are interested in you, he'll open his eyes and realize that he better scoop you up before you're off the market.
4. Be someone he wants to chase.
Guys aren't going to chase a woman who makes it difficult or shows that she doesn't have any redeeming qualities. Show him that you are someone that he wants to be with by being kind to other people – not just him. Be friendly, approachable, fun, and of course someone that he can see himself spending time with on a one on one basis.
5. Find your confidence.
Not everyone is naturally confident. For some people, it takes a lot of work and even still they simply don't have it. Men want to be with a confident woman. So when you are feeling good about yourself and love the person you are, men will pick up on it and they will instantly gravitate toward you. When you're confident, you've got the upper hand in any situation where there is a man involved.
6. Have your own life.
When we say have your own life, we don't mean that you should ignore your crush when he texts you and simply waiting for a certain amount of time to go by before you answer. We really mean have your own life. Go out with your friends. Enjoy your favorite past times. Complete those projects that you've let go for too long. The name of the game here is to have enough going on in your life that you aren't constantly worrying if he is going to call or text you. If he really wants some of your time, he will have to work that much harder, and in the long run, he'll find it was so worth it.