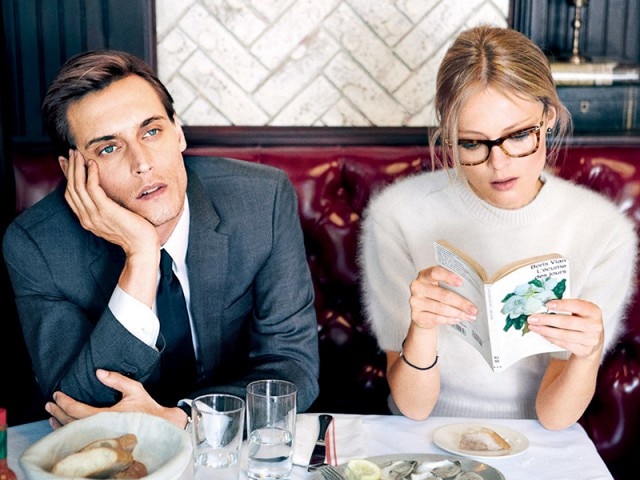 First dates can be an euphoric experience if it goes well and you hit it off wonderfully, but it can also be a disaster if you do something or say something that could offend your date.
We already know the topics that you should avoid like the plague on the first date (politics, religion, or exes), but you can't sit around talking about the price of tea in China or the latest heatwave.
Find that perfect spot between boring and scandalous with these safe first date topics:
Compliment Her Appearance
You can't go wrong with complimenting your date on her appearance; especially because she probably has taken a lot of time trying to look her best for this date. While it isn't something that will fill hours' worth of conversation, it is still socially acceptable (and maybe even expected) to compliment her. You should make sure that your comment is polite and nothing too creepy. You can't go wrong with something like, "You look fantastic!" or "That dress looks really good on you."
Television, Music, and Books
You can break the ice by starting the evening with a question like, "What have you been watching/listening/reading lately?" Choose one and then move to the others further in the date. It gives her a chance to talk about some of her favorites and you can relate back to her with your favorites. Not only is it a good way to break the ice, but it also gives you a chance to discover new things or vice versa.
Hobbies
There are two ways you could ask your date about their interests in life. You could either be bland by simply asking what their hobbies are, or you could make it a little less cookie cutter by asking them what they do on the weekends or in their spare time. This allows them to offer an answer that you can then expand on. For example, if they enjoy cooking a big meal, you can ask them what kind of cuisine is their favorite or if they have ever attended a cooking class (if not, this would be a great opportunity to ask them on a second date!).
Family
Perhaps the easiest way to learn more about her family is by asking if she has any siblings. This can easily move on to what they do for a living, about her parents, her childhood, and so forth. This is all useful information when you're trying to decide if you are compatible with one another. When you are asking about her family life, make sure the questions are neutral because you don't want her to start feeling like you are a shrink.
Work
At one point or another during the date, the conversation is going to move on to what either of you does for a living. You don't want this to be the first question you throw out there because it could come off as being on the shallow side. When you do ask the question, you can expand on it and ask if that career is what they always wanted to do, or what would they rather be doing for work.
While these questions may not be the most thought provoking or that deep, they can be a great way to learn more about your date and they can lead into the deeper conversation if the right things are asked.