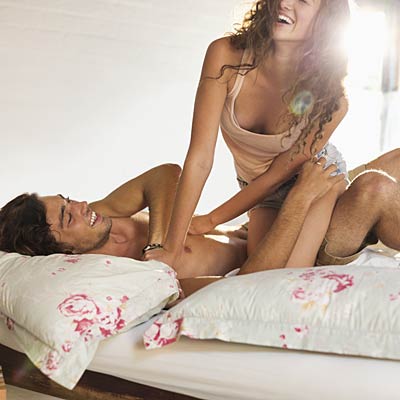 In this exciting world of dating, we tend to become creatures of habit. We fall into a rut that can be a challenge to break free of, sometimes to the detriment of the relationship.
It does not have to be the case, though! Oh no, no! We have a few date ideas which can help keep that sexual chemistry flowing, keep it exciting, and keep you both wanting more of one another.
Adult Jenga – This is a fun way to put an adult spin on a classic kid's game. You could divide the blocks between yourself and your partner and write various adult questions, dares, and other fun things on the blocks. Each block that is pulled, that person has to do whatever is on the block. How naughty you get is entirely up to you.
Pick Up Artists – Regardless of how long you and your partner have been dating one another, it can be quite flattering when a stranger flirts with you. You can play off this by going out to a bar separately. Pretend that you don't know each other (you can even adopt different personas) and you have to try and woo each other. If you're able to play cards right, you just may get lucky on the first night; you sly devil you!
Wear Skimpy Lingerie and Watch Erotic Movies – Nothing ramps up a night full of enticing intimacy than wearing garments that make you look and feel sexy, while watching movies that have strong erotic overtones. You watch a soft-core romance flick (typically foreign films are the perfect go to for that) or skip all the fluff and mush and go straight for X-Rated flicks. The choice is yours.
DIY Paint and Sip Party – Surely you've seen countless advertisements for paint and sip events at local art galleries or bars. You can pull inspiration from this event and do it at home. Pick up a couple of bottles of wine or champagne, a variety of art supplies, and go wild. What you use as a canvas is up to you. Some people use actual canvas, while the truly adventurous finger paint directly on their lovers. Just be sure you use body paints or something water soluble. You don't want to have to explain the bright colored patches on your skin that won't come off the next day at work.
Build a Fort Together – Face it, forts aren't just for little kids anymore. Gather a bunch of blankets, pillows, snacks, and beverages and have fun building the ultimate adult fort in the bedroom or living room. There isn't anything quite as romantic or naughty about getting down and dirty in your private pleasure den. If you are lucky enough to live in an area that is secluded, build your fort outside and even include a fire pit.
Reverse Date – Usually a date starts off with dinner and a movie, a night cap, then going home with to soak in the tub and maybe a night of passionate love-making. Flip the script and do everything in reverse order. This means that the date starts off with wild sex, you both get washed up (preferably together) and then you go out for drinks, dinner, and a movie. Although we can't guarantee that you'll make it past the shower part — if you can, kudos!
The Sensual Massage – If you are dating someone who tends to be stressed out, you aren't going to go wrong by giving them a complete rub down with warm oils, soft candle light, and a bit of wine to relax with. You'll find that when they are ultimately relaxed, the love making is so much more enjoyable — both for you and your partner. Also, if you take the time to make them feel good, chances are they will do the same for you.
Experience a "First" Together – Although this isn't explicitly naughty, it could be. When you and your partner take part in a new experience together, you are fostering a bond with each another that goes deeper than any other bond you may share with another person. For example, if you go skiing together for the very first time, you're able to see each other be vulnerable, and that can be an intimate feeling as most people don't like to show that side of themselves. These new experiences can lead to more adventures and more activities you can do together.
Act Like Teenagers Again – Ah, puppy love. There is little in this world that can compare to the innocence of teens in love. This is your chance to recapture that raw innocence and put it back into your relationship. If it's been that long since you've been a teen and you don't remember what you've done on a date, here are a few ideas:
• Make out in the movie theaters.
• Make out in the back seat of the car.
• Go to the "lover's lane" in your town and go at it.
• Stay out all night at the beach, just talking.
These options are just a few ideas. Remember, anything was the game when you were a teenager!