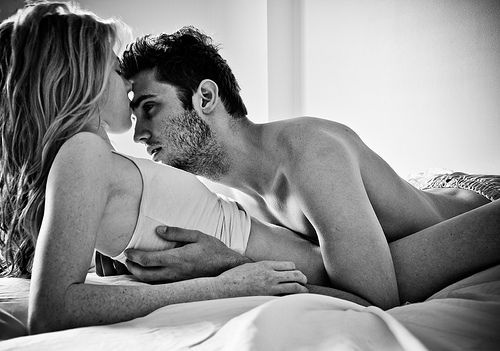 Sexy conversations and flirtatious moves are surely enough to turn him on. Here are 10 physical turn ons every woman should know in order to make your relationship hotter.

1 – The lingering kiss.
Turn him on and have him wanting more by letting your kiss linger a little longer before breaking apart; or, you could give him a hug goodbye and kiss his cheek softly and let it linger a few heartbeats.
2 – Pressure on his lap.
If you're sitting next to a guy and he shows you something on his tablet or in a book while it's still on his lap, point to something with your finger without taking the book away. He'll feel that pressure on the sensitive areas and will definitely get his imagination working.
3 – The kissing whisper.
This tactic harkens back to your childhood where you lean in to whisper him a secret, let your lips and warm breath caress his ear, which will be sure to lull him into submission.
4 – Flash some skin.
Just a flash of skin, it needn't be anything crazy or over the top, but this little slice of taboo heaven may be just what he needs to get him going. You can show a bit of skin in a variety of ways like showing some of your thigh while in a skirt, or showing a bit of stomach by wearing a crop top.
5 – Tattoos.
Tattoos on specific areas of the body are a big turn on for many guys because they allow his imagination run wild. Men find it especially sexy when they can only see a portion of it and not the whole thing.
6 – Midriff and lower back.
These parts of your body are incredibly arousing when peeking out from under shirt and even more arousing when you don't intend on it happening.
7 – Tight clothing.
Never underestimate the power of a pair of skinny jeans and a well fitted shirt. When you wear tight clothing, you're giving him an opportunity to assess your physique, but it gives him a better idea of what your body looks without clothing. Of course that means it is important that you be fit when wearing skin tight clothing.
8 – Accidental touching.
We've been in those situations where we accidentally touch someone's intimate areas (breasts, boobs, butt, private area), and chances are you've felt pretty embarrassed by the accident. Be that as it may, men will probably recall that memory from time to time and use it to turn them on. You can be sure that when his arm grazes your breasts or his abdomen feels your butt as you squeeze past him, he'll be recollecting that image for visual stimulation later.
9 – The down blouse.
Men cannot avoid looking down a woman's blouse when they are presented with an opportunity. This means that he will probably sneak a peek at your cleavage should you bend over or lean over him.
10 – A tease.
Every man is turned on by being teased. All you have to do is walk up to him and stare straight at him. Instead of starting a conversation with him, simply say "excuse me" and continue walking while flashing him a coy little grin. As you stroll by, smile and say thank you, as it will boost his ego and it'll make him want to talk to you.